We are pleased to share that the 2021 national state of the environment (SoE) report has been launched by the Minister for the Environment and Water, and the SoE website is now live.
Biotext has been privileged to work as a strategic partner on the 2021 report, building on our experience in the 2016 and 2011 national SoE reports, and the 2015 ACT and 2013 South Australian reports.
The report is designed to:
provide a strategic view to shape policy and action
engage with users to influence behaviour
assist with assessing our interventions as stewards for the Australian environment.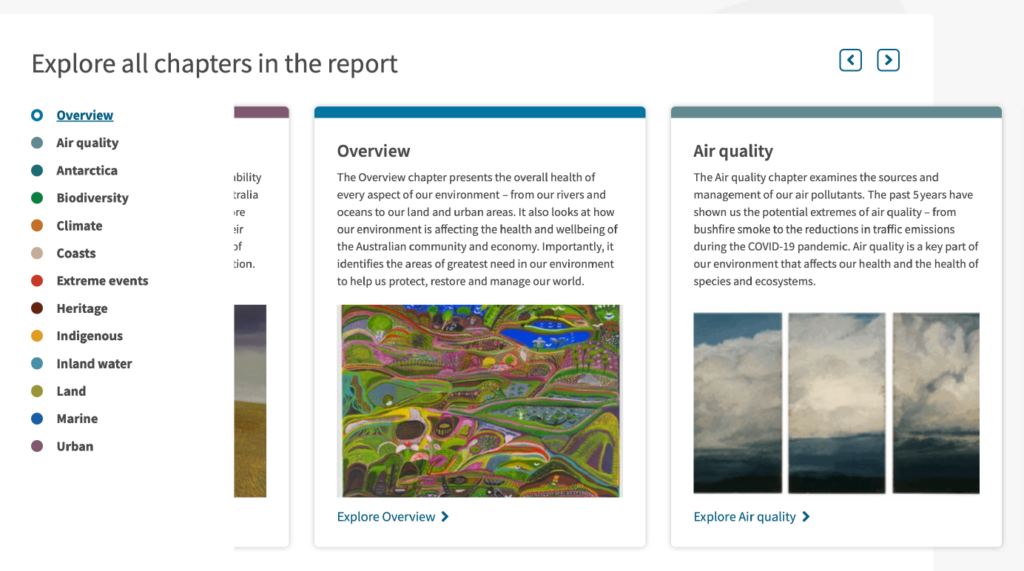 Biotext worked with the independent authors, government department and web development teams throughout the intensive process of developing and producing this important national report. We helped to plan, shape, write and design content to inform decision makers and the public.
The report is made up of an Overview chapter and 12 thematic chapters. The Overview chapter provides a synthesis and integration of more detailed content and assessments found in the thematic chapters and provides the overall outlook for the Australian environment. The 12 chapters on air quality, Antarctica, biodiversity, climate, coasts, extreme events, heritage, Indigenous, inland water, land, marine and urban contain detailed discussions of outlook and impacts, state and trend of the environment, pressures, and management.
In 2021, Indigenous and non-Indigenous peoples have worked together to create the first holistic assessment of the current state of Australia's environment. This recognises that Indigenous participation in management of land and sea is critical to environmental outcomes.
We congratulate the authors and everyone involved in producing the report on a fantastic result.